Tim Mulhair
By Chris Dummermuth
As a kid, Tim Mulhair was INTO basketball!! Growing up on the "North End" of Sioux Falls, tennis, for him, was not a big activity. He knew that there was a guy (South Dakota Tennis Hall of Famer, Dave Weber) on West 7th street who had his own court in his yard, and he learned that his babysitter (SD Tennis Hall of Famer, Joan Griffin) was a big-time tennis player.
But the only reason he took to the tennis courts that were located directly south of the Terrace Park swimming pool, was to break the monotony of practicing basketball all of the time. After a day of dribbling and lay-ups, Tim and his buddies became nighttime "hackers" at the Terrace tennis courts.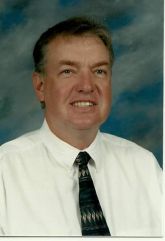 Tim played his prep basketball at Sioux Falls O'Gorman, and then completed four years of varsity basketball at Northern State where he graduated with a teaching degree. He returned to O'Gorman to teach, and then branched out to Highmore and Mission, South Dakota, before finally settling in Yankton in 1983. In addition to his teaching assignment, Tim coached 9th grade girls basketball for two years, and in '85 added the head boys basketball coaching duties.
To get a break from being in the gym all fall and winter, Athletic Director Jack Richardson asked whether Tim would consider leaving 9th grade girls basketball and taking on the varsity girls head tennis coaching position. It was a done deal when Tim found out he could be a head coach of a sport with a shorter season, and he would be paid more—all of a sudden tennis coaching looked very interesting! After all, he had taken a tennis activity course in college, and his teaching certificate stated he was "qualified" to coach tennis. Tim is quick to admit there is a big difference between being "qualified" and being "knowledgeable". In the fall of '85 Tim took the helm of the Yankton Gazelles. He was then added as head varsity boys tennis coach in '92, and coached both teams through their 2010 season.
Having no experience as a high school or college tennis player admittedly made Tim feel he was at a bit of a disadvantage in his new coaching role. Yankton traditionally wasn't a huge tennis community, so approaching it like any interscholastic sport, he stressed competing hard, doing your best, and representing your school first, and yourself second.
When asked about his coaching style, Tim said that he always felt that the kids were trying as hard as they could, so getting after them, especially during matches, was counterproductive. His way of instilling confidence was reinforcing things that they could do, so that when he told them to do it, they knew that he thought they could.
Dr. Tim Mitchell, a former Yankton tennis coaching peer and currently the Rapid City Superintendent of Schools shared these insights about Tim, "Coach Mulhair got kids to take tennis more seriously outside of the season, and he did this by modeling. By participating in leagues and tournaments himself, he ramped up the kids' interest. He was very dedicated!"
Under Tim's guidance and leadership, Yankton teams competed well at the conference and state tournament levels. The Gazelles captured ESD Conference titles in '93 and '03. Kyna Williams, '93, Ryan Elwood, '00, and Gabbie Kachena, '08, were Yankton seniors honored with the Spirit of Max Award, which was born from a suggestion from Tim.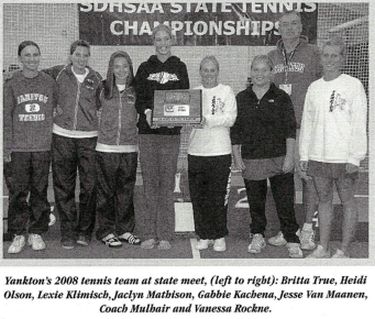 Tim served on the SDHSCA Tennis Advisory Board for 13 years, and was the SDHSAA Tennis Representative spanning eleven years. He was instrumental in helping initiate a change in the scoring format for the state tournament, which allowed kids more playing time, and created a true "team" champion.
In 2002, Tim was awarded the South Dakota High School Coaches Association Tennis Coach of the Year. He is a two-time National High School Athletic Coaches Association Tennis Coach of the Year finalist, and was honored with the South Dakota High School Coaches Association Distinguished Service Award in '07 and '10. Dr. Mulhair was inducted into the O'Gorman High School Athletic Hall of Fame in 2010.
Over the years, Tim logged approximately 72,000 miles delivering players to matches and competitions. He's sure his girls will recall one favorite memory as the time the county sheriff pulled Coach over for speeding "a little" above the posted limit. As for Tim, he cherishes the friendships that were made sitting on some bench in cold weather, or watching a consolation match at the end of a long ESD or State Tournament.
Tom and Leann Rockne had four girls and two boys (with two more currently playing) who played tennis on Tim's teams. Leann reflected that, "Coach Mulhair was a man of few words. He was very humble, he cared deeply, and the kids knew that. He did a lot by just being who he was. He still takes a deep interest in how the kids are doing."
Clearly, basketball's loss was a South Dakota tennis gain.