Tom Clayton
Tennis was the favorite recreational offering in the Bill and Sally Clayton household. And it was embraced wholeheartedly by son Tom Clayton at a very early age. His rise as a top junior player, culminating with two South Dakota high school singles titles, brings about his induction into the 2006 SD Tennis Hall of Fame.
Growing up a block from the old concrete courts of McKennan Park meant that tennis was basically a backyard sport for the Clayton family. "I remember balls all over, kids and racquets…mom and dad hitting with each other, then to us, as our introduction to tennis," said Tom.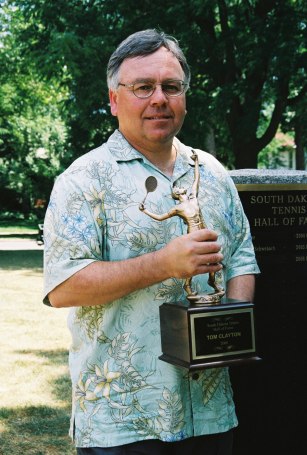 Tom transferred summer lessons at the park, headed by Don Grebin, into a very nice prep career. As a sophomore at Washington High (1971) he lost in the state finals to his brother Billy (a senior at Lincoln High). That was to be his last loss as a prep singles player for Washington High.
As a junior, Grebin, now the Warrior coach, predicted Tom would go undefeated. He defeated Lincoln's Greg Wilcox for the state championship 10-7. As a senior in 1973, with the start of the Sioux Interstate Conference with the Sioux City schools, Tom claimed that title also, downing North's Doug Browne 7-5, 7-5 for the conference title.
Tom then capped two years of undefeated play by beating friend and summer doubles partner Keith Levi of Aberdeen Central 10-4 to repeat as state champion. (Levi got revenge by teaming with Bruce Mannes to win the doubles over Clayton and Warrior teammate Randy Melham, 10-7).
Tom and Levi went on that summer to earn the #1 ranking in boys 18 doubles in the Northwestern Tennis Association. They played most tournaments together throughout the summer in the 14s, 16s, and 18s.
Former Aberdeen and Sioux Falls player and coach Doug Smith recalls that senior title for Tom. Aberdeen Central swept most other flights, but Tommy "owned #1 singles flight." Doug recalls an Argus Leader photo featuring Tommy, plus the Aberdeen players, with Senator George McGovern.
"The story line went something like this: 'the only one who could stop Tommy Clayton's march to the state title was McGovern.' The backstory was that rain forced the tourney indoors to Westward Ho Racquet club for the finish, but McGovern was in the midst of a private lesson with pro Dave Weber. Dave kept everyone out until the lesson was finished because he didn't want the Senator to feel 'uncomfortable' by having all these fine young players (all of whom, of course, would have been able to beat the socks off George) looking on as he hit with Dave."
Tom says his tennis memories are so broad that he even credits himself to helping veteran legends Wendell Ottum, Steve Wilkinson and others win matches in the 1960's. "During the SD Opens in Sioux Falls, my mother would basically offer our house as a tournaments headquarters, players would load up on baloney sandwiches, shower and change in our house. I loaned them my comic books, which helped them relax in the shade before a big match," smiles Tom.
Tom gave tennis a brief shot at Northwestern University in Chicago, where he attended for 2 ½ years before becoming self-employed as a trader on the Chicago Board of Options (1976-1988). He returned to school in 1989, graduating magna cum laude from Ft. Lewis College in Durango, CO. Then, he went to law school at the University of South Dakota (also serving as chief editor of the USD Law Review.)
Today he has a solo practice in Sioux Falls, working primarily in areas of employment/discrimination law, securities law, business initiatives and federal criminal defense. Tom has three children: Sarah (18), Laurie (17) and Ryan (12).
Highlighting his junior summer tennis was playing at the USTA National Juniors boys tournament in Kalamazoo, MI in the boys 16's (seeing Vitas Gerulaitis in the draw), and playing in the St. Louis Jr. Regional Tournament.
Looking back on that sophomore year at Washington and his first chance to play prep tennis on a team, Tom said what a joy it was when Coach Grebin teamed him in doubles with all around athlete Dave Dummermuth, a senior.
Dummermuth said part of their fun together was their matched competitiveness. "Tom was such a talented, experienced player, that I basically served, returned and tried to stay out of his way, and it seemed to make for a winning combination," said Dave. A highlight that year was a win for Tom and Dave over Billy Clayton – Randy Kochenderfer in a dual match between Washington High and Lincoln. Billy and Randy avenged that loss by winning the state doubles over Tom and Dave, 10-6.