Tom Krueger
By Terry Nielsen
For Coach Tom Krueger, winning is huge, but winning with integrity is the ultimate standard bearer as the tennis coach at Lincoln High School in Sioux Falls. As one of the most successful coaches in SD prep history, Krueger is being inducted into the SD Tennis Hall of Fame in 2018.
Since becoming the Patriots head coach of both the boys (in 2007) and girls team (in 1995), his teams have compiled a dual record of 541 wins and 139 losses, while winning a total of twelve state team titles. Seven of those championships were by the girls teams from 1997 to 2001, then again in 2016 and 2017. His boys teams are on a five year winning streak, starting in the 2014 season.
Despite all the trophies and great memories with each title, Tom says his proudest moments "have come when parents and coaches comment on the integrity and class of my players. I have players who put in tremendous hours on the courts in the off season to be as great as they are during the season, and as great as they are on the court, they are even more so as people and students. Winning as much as we have been is a blessing and a lot of fun, but it would mean nothing if we didn't win with integrity on the court and treat our opponents with respect."
Those values for Tom were nourished in the family home of Harold and Phyllis Krueger with his brothers Dave, Mark and Tim….appropriately on Grange Avenue, right across the street from the Augustana College tennis courts. Harold was a longtime music professor at Augie and Tom's parents still live in the same house from back in the early 1960's.
Though involved in music like the entire family, Tom took to the tennis courts at the highest level of all the Kruegers. "Back in my early years, there were only three tennis courts at Augie. If the college kids kicked us off the courts, my father would go over there and kick them off so we kids could play," smiles Tom. Oh, the power of being a professor!
The Sioux Falls city parks lesson program also offered tennis team opportunities. The players would drill and practice during the week, and compete against other parks on Fridays. Some of his park coaches were Randy Kochenderfer, Dave Dummermuth, Brian Balcer and Chris Dummermuth. He improved enough to play #1 at Washington High School for three years, losing the state title as a senior to Jimmy Sorrell of Sioux Falls O'Gorman. Tom then played for the Augustana Vikings, as their #1 singles player for three years. In 1985, he finished third at #1 singles in the North Central Conference tournament. Prior to that, other high marks involved winning the 18 singles at the SD Closed. Since then Tom has won several doubles titles with Matt Johnson of Sioux Falls.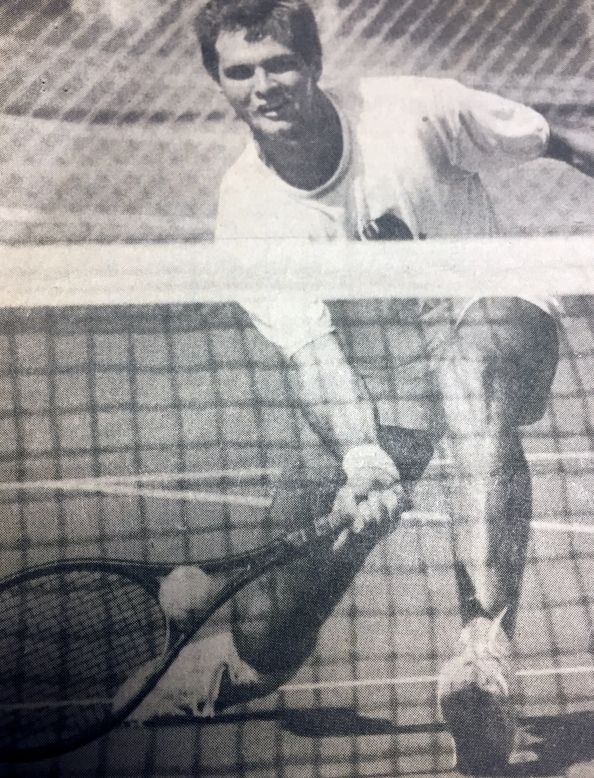 Chris Dummermuth, who successfully coached at Lincoln High for many years prior to Tom, is one of his biggest coaching fans. Said Chris, "What I love about Tom is that he is truly grassroots! His interest in tennis was sparked through the city parks programs, and his development was from hitting hundreds of balls on the Augie courts with friends, teammates and rivals. Tom has a deep appreciation of what it takes to achieve."
Tom and wife Nancy have been married 32 years (she is principal at Laura Wilder Elementary and Tom is a full time elementary ULE "gifted program" instructor for Sioux Falls school district). They have two children, Isaac and Anna, both Augie grads. They recently became grandparents with baby girl Emory through Isaac and his wife Alex. Nancy, also an Augie grad, caught the tennis bug a few years ago and has even played some tournaments.
Tom's first coaching stint was in 1994 at Lincoln, with the freshman team, under Dummermuth, which he did for nine years. The varsity girls team became his to lead in 1995. "I became spoiled as starting my second year, we finished first in the state five years running while going 135-2 over seven years…..quite a run for LHS tennis."
Tom is always working to keep his game sharp, with singles leagues, and often plays doubles with the likes of Tom Chaplin and Thomas Chiu. Tom won the SFTA 4.5 singles titles 2014-2016 and was finalist in 2016 for the SD Closed.
Through 2018,he has coached 53 state singles champions and 27 state singles finalists (all flights) as well as 27 state doubles winners and 14 state doubles finalists (also, all flights 1-6). In 2002 he was the Ole Odney Award winner through Augustana as alumni coach of the year, was head coach of the year for all sports at LHS in 1999, conference coach of the year five times and was head coach of the year for the Sioux Falls school district in 2017-18.
Pressed about a playing highlight for himself, Tom remembers what he calls "his one brush with greatness!" He was playing the Rochester, MN tournament as a teenager, on the court next to David Wheaton (future tennis professional, Winbledon semi-finalist). "Midmatch, David got sick, threw up all over the court, then went on to win the match," said Tom.