Tom Line
By Brad Green
Current World Tennis Association player Maria Sharapova has been quoted as saying that "Tennis has given me this wonderful life and I'm very grateful for it."
Tom Line would probably agree with Sharapova's words.
Line was born on July 8, 1941 at McKennan Hospital and was raised nearby in a house on Wiswall Place.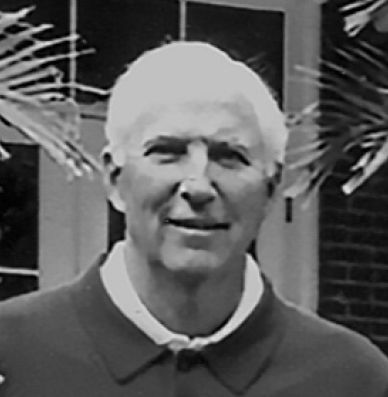 Tom recalls Sioux Falls was a wonderful place to grow up and said that McKennan Park, which was close to his house, would become a favorite playground.
"I first gravitated to McKennan Park when I was 10 or 11," he said. "I rode my bike there with my racket on one handlebar every day."
Line attended Longfellow Grade School for kindergarten through eighth grade before heading downtown to Washington High School.
Tom said that he traveled throughout the region enjoying the game that he loved.
"I played in tournaments all around the Midwest," he said. "I went to Minneapolis to Fargo to Omaha to Rochester. I won the Rochester Open when I was 15."
Tom played basketball for the Warriors and coach Arnie Bauer but it was on the tennis court where he made his mark. In 1959, Line captured his first-ever singles title at flight one and his fourth straight doubles title at flight one.
With the fourth doubles title, Tom joined his former doubles partner John Simko as the only men at the time to win four flight one consecutive doubles championships. What makes Line's achievement even more unique is the fact he did it with three different partners: Simko, Dave Weber and Fred Fischer. With his induction this year, Tom now joins all three men in the South Dakota Tennis Hall of Fame.
Simko, who is the same age as Tom's older brother Mark, recalled good times the boys had at the Line house in the late 1950's.
"I spent a lot of time over there," Simko said. "Mark and I became fast friends so Tom was like our little brother. I spent as much time at their house playing basketball and ping-pong and playing cards and just hanging out as I did anywhere."
After graduating from Washington, Tom continued his education and tennis career a little over four hours from home at Iowa State University in Ames.
Line played three years for the Cyclones, who competed in the Big Eight Conference against schools like Nebraska, Kansas and Oklahoma.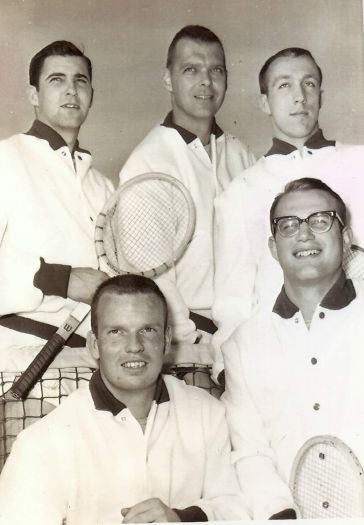 Photo: Tom Line (upper left) with his Iowa State University teammates, 1961
"I started playing number two as a sophomore and played three years," he said. "I played all over. I had a good time playing in college and it was a lot of fun."
In addition to playing tennis, Tom was involved in fraternity life at Iowa State and even saw a famous Russian politician during his first year on campus.
"I was in Sigma Alpha Epsilon so there were a lot of activities going on all the time," he said. I remember in my freshman year, Nikita Khrushchev came and visited campus and some local farms as he was interested in farming. I saw him as he drove by."
Line earned a Bachelor of Science degree in Construction Engineering from Iowa State in 1964. After graduation, he entered the United States Navy and spent three years in the service. Line began as an Ensign and finished with a rank of Lieutenant.
Tom also played tennis during his time in the Navy.
"I went to the all-Navy finals three times making the semifinals once and the quarterfinals the other two," he said. "I got to play in Alameda, California, Newport, Rhode Island and Norfolk, Virginia."
Line's first job out of the Navy was working with Turner Construction in Chicago. He moved to Florida in 1969 when his father-in-law asked him to help build a hotel on a golf course near Orlando. Today, the Mission Inn Resort and Club boasts 180 hotel units, a conference center, two golf courses and additional development totaling 1,000 acres after starting with just 190 acres.
Tom lives in Howey-in-the-Hills, Florida with his wife of 46 years, Donna. The Lines are the parents of Scott and Sharon and grandparents of Preston and Addison. Scott is married to Kaci and are the parents of Preston and Addison. Scott is an attorney in Orlando, Florida and was a top high school player in Florida before playing at Division I Furman University in Greenville, South Carolina. Sharon is married to Mike Clary. She went to Florida State University in Tallahassee and works in marketing for a hospital in Orlando.
One of Tom's favorite tennis memories involve Scott and him.
"We went to the national championship for father and son in 1988," Tom said. "We won the district in Florida and then the regional. Sixteen teams from around the country went to the national championship at the U.S. Open in New York."
Tom says that Preston has followed in his grandfather's and father's footsteps by picking up tennis.
"He's starting to play right now," Tom said. "He enjoys it and has a good backhand."
Simko recalls Line's strong tennis game.
"Tom could out-finesse us on the tennis court and we couldn't out-muscle him, " he said. "He had a really nice serve. He had a strong top-spin forehand, which people didn't have at that time, and he had a strong net game. He was just a good well-rounded player."
On behalf of the South Dakota Tennis Hall of Fame selection committee, we proudly welcome Tom Line into our ranks as a member of the Class of 2015. Congratulations to Tom!