Tom Weber Bio
Tom Weber is being inducted into the 2004 SD Tennis Hall of Fame as a top junior player and adult financial contributor to the game of tennis.
The Sioux Falls native and Washington High graduate (1962) played competitive tennis from age nine through 21 and as an adult, continues to enjoy recreational doubles play. A bigger thrill now is sharing some of his financial resources to benefit the game of tennis.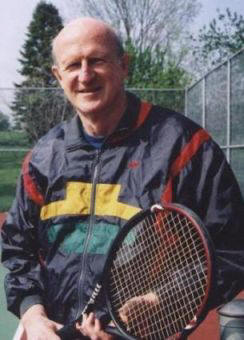 Longtime tournament director and community tennis promoter, Mary Thompson of Sioux Falls, says, "the United States Tennis Association so often speaks of 'growing the game of tennis'. Tom doesn't talk about it, or think about it, or dream of it, or ask someone else to do it. Tom IS growing the game!"
Mary said the Sioux Falls Tennis Association started running the Sioux Falls Park tennis program in 1999. And the Northern Section of the USTA had suggested starting novice tournaments, including round robin type, to give juniors a chance at competitive situations against other novice players.
Mary hoped 50 kids would enter since they didn't have to meet seasoned junior veterans in the tourney. The Northern Section was amazed when 150 entered, showing a real need for that type of event. That first year, Tom offered financial support for the tournament, which is now called the Weber Family Tennis Classics. "Yes," says Mary, "classics is plural, since we now have two tournaments each summer, both supported by Tom. You'll see the Weber classic t-shirts all over our Park tennis program."
"I remember back as a college student, playing tournaments in the Twin Cities, thinking that I wished there were tournaments with more of a round robin format, so you can keep playing," says Tom. "Just hitting balls and taking lessons as junior is not enough. They need to be in that competitive situation where they continue to play actual matches with someone at their same skill level."
The SD Tennis Hall of Fame, started in 1991, benefited from a major gift from Tom to start the SD Tennis Hall of Fame Endowment, through the Sioux Falls Area Foundation. Tom hopes the fund continues to grow to provide ongoing operational support of the Hall of Fame. Tom said the Hall of Fame not only recognizes past tennis exploits, but promotes the game and annually provides funds for SD tennis communities' junior programs.
Tom's earliest tennis memories go back to his home at 1308 W. 7th St. in Sioux Falls, where parents R.H. and Lucile raised Tom and older brother David. "Dad put a clay court in our backyard in the early 40's and changed it to concrete in 1952. As an eight year old, I remember the excitement of seeing an overflow match from the SD Open at McKennan Park being moved to the court in our backyard."
Tom learned strokes from his father, who had often wintered in Florida and had professional instruction at various hotels. He also learned from the numerous tennis instruction books his father had, "the old ones with tennis stroke sequence photos." Between his father, the books and the family backboard, Tom picked the game up quickly.
He won the first tournament he entered, the "midget division" as a 10 year old at the SD Closed in Brookings and became ranked #1 in the old Northwestern Section in the "midget 13 and under" division. He earned a #4 ranking in the boys 15's in the Section, then won three high school doubles titles at Washington High (1960, with Fred Fischer, and '61 and '62 with Jeff Clark.) He was singles finalist in '60 behind Fischer, and in '61 lost to Jeff Clark. (The format in those days allowed teammates to meet in the finals.)
Augustana College doesn't win North Central Conference tennis tournament often, but they did in 1965, lead by Tom, Jerry Larson and Rich Stevenson. Tom had won the NCC singles title in 1964, beating the defending champ in the semifinals. In 1965, Tom and Dave won the SD Closed doubles and did well enough in regional tournaments to earn #2 doubles ranking in the Northwestern Section. In 1967, Tom graduated from Augie with a business and math degree.
A highlight as a junior was going to a Pepsi-sponsored national junior tournament in East Lansing, MI. That is when he saw juniors from across the country that were better than the top adults in SD.
And maybe that is where Tom learned there is usually some one who can beat you in your next match. And that maybe playing and enjoying the game for the exercise and relationships it builds is really a huge part of tennis after all.