Weber Family
Never underestimate the power of your local Chamber of Commerce. But for the Sioux Falls Chamber of Commerce and its speedy response to a young entrepreneur (R.H. Weber) from Wisconsin in the early 1900's, the family's legacy of tennis in South Dakota (with sons David and Thomas) never would have occurred.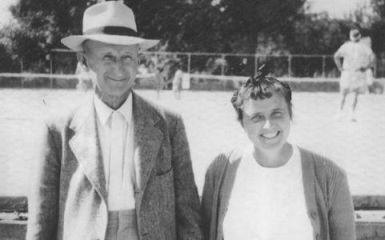 R.H. was born in 1878 in Plymouth, WI. He ended his schooling after 8th grade when his father died and he chose to work 14-16 hour days in a general store to support his mother and siblings. A self-taught locksmith anxious to venture out on his own, the 27-year-old Weber looked at opening a new business in either Sioux Falls or Green Bay, WI. Inquiries were sent. He never heard from Green Bay, but Sioux Falls quickly responded–promoting itself as a progressive community, anxious for Weber's new business. "Dad heard right away from Sioux Falls officials, and that impressed him," said son Tom.
R.H. located his business at 9th and Dakota in Sioux Falls, and soon added bicycles to his locksmith business. "In a few years, Dad had the exclusive Indian Motorcycle (brand name) franchise for all of South Dakota and parts of the neighboring states," said Tom. He set a company record for the largest single order of motorcycles and even did some cycle racing to promote and advertise his products. He set sales records during the 1913-15 period, working 60-80 hour weeks selling and repairing his cycles (a self-taught repairman)."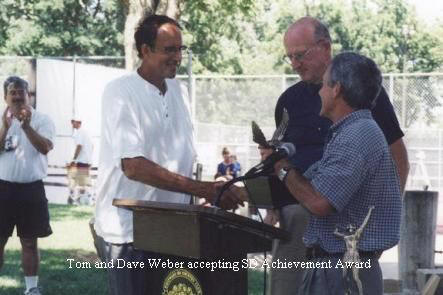 He could see that automobiles were the transportation of the future and sold his business in 1925. Then he started buying and building apartments. "His apartment building at 13th and Dakota was built in the 1920s and is still solid as a rock," said Tom. R.H.'s first wife Clara died from influenza during the 1920s.
Earning a good living in real estate allowed R.H. to travel extensively and that is where he fell in love with tennis at the age of 42–taking lessons while wintering in Florida. He played legendary player Bill Tilden once while vacationing in Florida and often traveled to Forest Hills to watch the U.S. Open.
In the late '30s, R.H. married his secretary, young Lucile Miller of Sioux Falls. Soon sons Dave and Thomas were born. All became tennis champions in
South Dakota.
"Dad built first a clay court, then covered it with concrete, at our family home at 1308 W. 7th St. in Sioux Falls," said Tom. "He wanted the north end to have courts, so he paid about $6,000 for the city to build tennis courts at Terrace Park. He provided concrete and the airmen at the old airbase provided the labor."
R.H. introduced young wife Lucile to tennis, which she played as a consistent baseliner. Much of it she learned on the family backboard. Lucile won a couple city titles in the early 1950s. Her best year was 1955, when she won the singles title at the SD Closed and teamed with Sally Howard for the doubles championship. David, inducted into the SD Tennis Hall of Fame in 1993, was the dominant tennis player in the state during the 1960s. He won nine SD Closed singles titles, earned #1 singles ranking in 1969 in the Northwestern Tennis Association and was named SD Independent Athlete of the Year (1968). One of the state's first certified teaching professionals, he led the early years of Westward Ho tennis before moving to Omaha, NE, where he is now in telecommunication sales.
Tom, a lifelong Sioux Falls resident, was a top player on the 1965 Augustana College team that won the North Central Conference tennis championship. Tom was NCC singles champion in 1964, and singles finalist in '65, while Jerry Larson and Rich Stevenson won the doubles for the team coached by Ole Odney. A 1962 Washington High graduate, Tom won three South Dakota High School state doubles titles: in 1960 (with Fred Fischer), and 1961-62 (with Jeff Clark). Twice he was runner-up in the state singles competition.
In 1965, Tom teamed with Dave to win doubles at the SD Closed, and they achieved #2 ranking in the Northwestern Tennis Association.
Mary Thompson, Sioux Falls Tennis Association longtime volunteer, said the Weber family has made its mark on public recreational tennis in a big way. The SFTA took over the instruction part of the city tennis program three years ago. The Webers since then have sponsored the Weber Novice Tennis Tournament, played at the end of each instructional session.
"We started the first year with 50 kids," said Mary, "and last year it grew to 150. The Weber gift pays for tourney T-shirts and helps us recycle trophies. Most of the Northern Tennis Section is envious of the numbers we're working with in Sioux Falls. Because of the Webers, we're able to offer all of this for $5 per player."
"Tom's there, asking 'what can I do?'–he's just a huge supporter of all of our volunteers," said Mary.
Terry Nielsen and Jamie Volin, co-chairs of the steering committee of the SD Tennis Hall of Fame, had an exciting year 2000. Tom and Lucile donated $10,000 to the Sioux Falls Area Foundation to establish the SD Tennis Hall of Fame Endowment. The fund grows through investments, and annually a percentage is paid to the SD Tennis Hall of Fame to assist in operating expenses.
"This is a major step to ensure the constant presence of our Tennis Hall of Fame," said Nielsen. "We're hoping the fund will grow through additional contributions and memorials."
R.H. Weber himself would probably say, "South Dakota tennis was good for my family. And I'm proud that my family was good, in return, to South Dakota tennis."